October is National CyberSecurity Awareness Month
Each week a different area of cybersecurity will be highlighted and different tips
will be given to keep you, your computer, your data, and your identity safer.
Short Quiz - How Safe Are You?
The following departments have helped sponsor this campaign: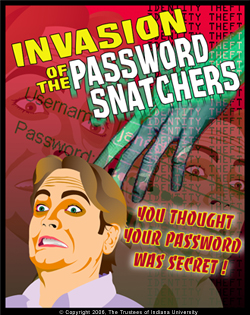 Press Play to Watch the Video
Video Credit | Get Flash Player
Is my password strong & secure?
The first step in keeping your password secure is to create a good one.
Start using a pass-phrase instead of a password: First think of a phrase that's easy to remember (ex. I donate to the 4-H Club.) and convert it to a pass-phrase by taking the first letter of each word (ex. Id2t4HC).


Substitute numbers for short words: (ex. 2hot4me, 1Gr8Pl8s)


For more suggestions, see: Selecting a Strong Password.
After you've created a strong password, continue with the suggestions below to keep it safe:
Never share your password with anyone: It is against university policy to do so. This includes family, friends, significant others, and bosses.


Never save your password if prompted by your browser or any other programs: You can turn this option off in Internet Explorer 7 and Firefox; for details, see How to Disable Password Saving.


Don't post personal information on social networking sites like Facebook and MySpace: Often companies ask you to share personal information so in case you forget your password they can confirm your identity by asking your pet's name, birth city, etc.


Change your password at least every six months: For instructions to change or reset your password, see Changing my Password.


Some schools and colleges may require different password rules: If you are unsure if your college has specific rules please contact your IT Provider.

VetMed Password Rules


Never send your password in e-mail, even if the request looks official: Not only is it against university policy (see the first suggestion in this list), but such requests are most likely phishing attempts.


Make your Auburn University password and other passwords different: This way if someone steals your e-mail password they don't have access to your Online Banking and E-bay Account.


Set a password for your Windows computer: If your computer doesn't require a password to log in, a key logger could be installed and every key stroke you make could be sent via a network connection. For instructions, see How to Set a Local Password for Windows 2000/XP.
Check back next week for tips on combating Worms & Viruses!
---