October is National CyberSecurity Awareness Month
Each week a different area of cybersecurity will be highlighted and different tips
will be given to keep you, your computer, your data, and your identity safer.
Is your computer running slow? Speed it up!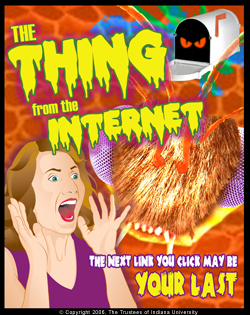 Press Play to Watch the Video
Video Credit | Get Flash Player
What is spyware and adware?
Spyware is any data collection program that secretly gathers information about you and relays it to advertisers and other interested parties. Adware usually displays banners or unwanted pop-up windows, but often includes spyware as well.
You can unknowingly install spyware when you install new software, most commonly freeware or shareware. Many of these programs are intended to track your Internet browsing habits, such as frequented sites and favorite downloads, then provide advertising companies with marketing data.
Some spyware programs, such as CommonName, MarketScore, and Gator, can adversely affect your computer's performance, and may prevent you from accessing secure services at Auburn University.
A list of spyware can be found at http://www.spywareguide.com/.
How can I remove it?
Spy-ware and Ad-ware programs have not been typically detected by anti virus programs and so you needed to install additional programs to remove these unwanted programs. Auburn's version of McAfee's antivirus program (McAfee VirusScan 8.5i + Anti-Spyware) does scan for spyware/adware programs as part of it normal virus scans. Two additional stand alone programs that are good at removing spyware/adware programs are Spybot - Search & Destroy and Ad-Aware. They are both free for home use and can be downloaded from their websites.
To check the validity of any file running on your system go to: http://www.sysinfo.org/.
How to avoid it
The following applications have been identified as programs that may contain adware or spyware:
Applejuice
Ares P2P
Audiogalaxy
BearShare
BonziBUDDY
CometCursor
eDonkey2000
Gnucleus

Gnutella
Go!Zilla
Grokster
iMesh
KaZaA/KaZaA Lite
KMD
LimeWire
Morpheus

NeoModus
Overnet
Rapigator
Shareaza
SwapNut
Warez P2P
WinMX
These additional steps also help avoid spyware and adware:
Avoid clicking advertisements.


Avoid clicking links in instant messaging (IM) software.


Frequently scan your computer with spyware detection software.
If you missed a week of CyberSecurity Awareness Month click the images below for the information you missed.
---